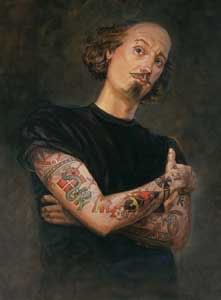 New York City's independent theater contingent cried foul when the New York Times' second string theater critic Charles Isherwood delighted that New York would finally get some Shakespeare worth watching when the RSC crossed the Pond and set up Edwardian shop at the Armory.
New York is finally getting some "real" Shakespeare.
Them's fightin' words.
New York has piles of Shakespeare and a number of smaller companies do Shakespeare quite well. Some with a blogging platform rallied and called him out. But the outcry didn't move much further than living a few days in the theater blogosphere, and it certainly fell on deaf ears at the Times. With the exception of feeling purged, what good did it do?
In as much as Charles prefers attending the RSC to, say, Shakespeare in the Parking Lot is obvious.  He is certainly entitled to his opinion–he's a critic afterall–but let's hope he doesn't  review any indie Shakespeare since it appears he's predisposed to hate it.
But does he really believe that New York theater is devoid of Shakespeare? I doubt it. While the tone of the article did suggest that New York is devoid of Shakespeare worth watching, we have to remember that the newspaper business is about eyeballs and buzz. And for several days, the New York Times had both, at least within the theater community.
So how can we turn this frown upside down and create a media moment?
The RSC comes to town and we have, well, the RSC, a behemoth brand. Let's call it the Starbucks of theater. They may have a celebrity or two in their midst, and ticket buyers know that they will pay a premium price but it will be a safe (known) quantity.
Then we have, for example, a company like Red Bull representing Park Slope's own Gorilla Coffee Shop. Taking this even further, like the similarly named energy drink, this Red Bull creates it's own brand of caffeinated Shakespeare. This ain't your Grandma's Bard.
I would love to see a young company take action and present the exact same Shakespeare play at the exact same time. Throw down the gauntlet and be the scrappy underdog. And take it even further, let's inject a little Bronx Bomber pride into this. The Brits may do "proper" Shakespeare, but the scrappy New York companies do it kick ass.
Maybe show up at the RSC's turf and stage a brilliantly bloody fight in front of the Armory. This has to be some seriously Vampire Cowboys-style brutal choreography. And do it again. And again. And again. Be in front of the Armory for days at a time, several hours a day. Hand out postcards and fliers to the circle of audience that surrounds. Hell, pass the hat and make a buck.
Added bonus? It would make a hell of a photo op.
Pitch this to the media. The media is nothing if not navel gazing–I am sure a few other outlets would be thrilled to take the Times to task, but they need a news hook to do it. Perhaps the Times would take it on themselves. If a story one of their critics wrote created enough of a sensation on and off line, maybe they would revisit it.
What other creative ideas do you guys have? How else can we spin this? Share 'em! I wanna hear  'em!