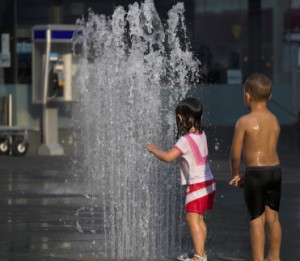 Welcome to the Dog Days of Summer!
It's been a very quiet week. I don't have the usual email inbox overload and my phone's been pleasantly silent. I don't expect it to remain this way for much longer. So I am enjoying working at a snails pace.
Summers used to be, however, my busiest season. I loved a summer opening! And if you are just starting out, you should too!
Simply put, there's less competition in New York in July. And while, yes, critics take vacations and go out of town, there's still coverage to be had. You are not competing with endless Broadway openings, and only a handful of major Off Broadway productions go up right now.
Of course, the argument is always that audiences go away for the summer, especially the weekends. But do they, really? This city of how many million people sees tumbleweeds down Broadway during a Saturday in July? I don't think so.
When you get into August, it's a little trickier. The New York Fringe pretty much takes over the City. It's always a focus-puller based on sheer size and volume.
But in July, it's spectacularly uncluttered. So stop the excuses. Find an air conditioned venue, rent it and put up a great show.