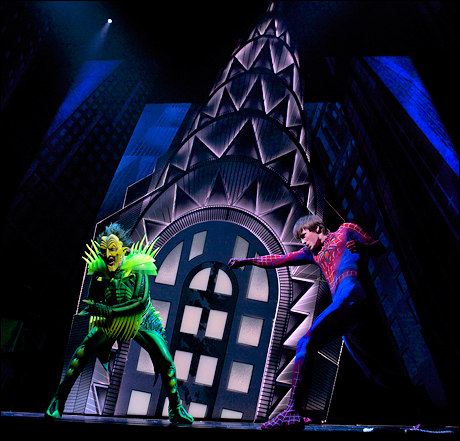 The big Spidey bruhaha that exploded around the holidays is not injured actors, dangerous stunts or unrigged rigging. It was the audacity of Linda Winer of Newsday and Jeremy Gerard of Bloomberg to purchase tickets and give non-review reviews of the show.
John Simon, who takes a leap into the blogosphere with his post, believes it was unprofessional and they should have waited until they were invited. And John joins Michael Riedel and Susan Haskins to tackle the subject on Theater Talk.
David Cote, over at Time Out, doesn't come down with a judgment really, but does point out that he is waiting until he is invited to come in before reviewing. Interestingly, he slaps his own wrists for giving commentary on the Spidey debacle to an impressive number of radio and television outlets. (And David, don't feel bad print hasn't come calling–all this radio and TV means you have a mellifluous voice and are easy on the eyes.)
And, finally, doing this post allows me to link to Isaac Butler's insanely brilliant post about his Spidey experience, which David also links to. Interestingly, David notes that Isaac is not a critic, and that his assessment doesn't "adhere to the technical specs of a theater review." (I didn't know there were specs.)
The digital world has clearly put a confundus charm on theater criticism.
I wish more critics were able to put the time, thoughtfulness, not to mention word-count, that Isaac devoted to his Spidey "assessment."  We bemoan the short word counts that give us Consumer Reports-style theater reviews (and the  thumbs up-thumbs down or "star" ratings that take up even less column inches!). So, I am going to call it a review.
Now, on to the "critics weren't invited yet" question. Ahhh. I see both sides, but I am coming down on the side of the critics who "cheated."
Clearly the show has got a lot of work to do–but it is work that has nothing to do with the technical issues. And based on what I have read about the show, and accounts of friend who have shelled out the money to see it, the creative team would have to retool the entire book and story line to make this show work. I am not sure that can happen without scrapping the entire concept and starting from scratch.
Since the show is charging the full monty for tickets, I think it was within the journalist's rights to purchase tickets and "review" the production as it stood, as long as they said expressed that the show was still in previews, etc etc. And it certainly wasn't like they were reviewing first preview, which was by all accounts a total disaster.
Honestly, what kind of damage can they inflict that Michael Riedel hasn't already? And poor word of mouth–both traditionally speaking and on social media and blogs (if we aren't going to call those reviews)–is out there as well (and doesn't seem to be making a dent in ticket sales).
And as those who toil in the Off and Off Off Broadway trenches know, where limited runs are the norm, shows open at lightening speed. A fact that is not always taken into account by the critics who come to second preview. I would argue that by the time an Off Broadway show opens, it is still not quite critic ready, but we have no choice.
A show does need several weeks to settle in, but time is a luxury on the Off Broadway level. We are lucky to have more than one preview to take care of any tech run amok. But the script, not to mention direction and performances, must be set pretty much by dress rehearsal.
Shows are so desperate for positive coverage that they forget that sometimes the negative comes right along with it. And in the case of Spiderman, no amount of negative seems to be keeping the ticket buyers at bay.
So what's the harm? Precedent? Perhaps. But having worked a few "no critics allowed" shows, I know that it takes an awful lot (i.e. $65 million musical with the world's biggest pop stars part of the creative team) to get the papers to pony up for full priced tickets. I can't say they will be racing with their wallets out to get a jump on the next show that opens on Broadway.
And it appears this topic is getting even hotter–as I wrapped up this post, Jeremy Gerard has given us even more to consider.
Incidentally, here is the one question I wish a journalist would pose to Taymor:
The source material of Spiderman is quite good, not to mention so beloved by legions of fans, why bother making up this Arachne backstory? That one's a head scratcher.
In the interest of disclosure, I have not seen Spiderman and given the outrageous ticket prices, I probably will not ever. I will also admit that I absolutely hated The Lion King. I walked out at intermission during press previews (natch). Once you get past gawking at the pretty puppets, there wasn't a whole lot of substance, as Isaac noted in his post.