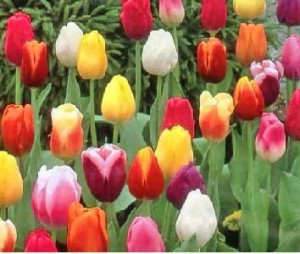 Tulips are poking through the ground, our clocks have sprung ahead and Spring officially kicks began on Sunday. That can only mean one thing. The crush of Broadway openings is upon us!
My phone is pretty quiet and my email inbox isn't filling up quite as fast. I am catching "See You in May" Facebook stats from friends and colleagues. The "open in time for the Tony" race is totally on.
This is the time of year that working Off or Off Off Broadway puts you at a severe disadvantage, no matter what the project*. There is just way too much noise and its drowning everything out. And it seems particularly magnified this year with Spiderman sucking all the air out of the room. I couldn't even clearly tell you what is opening ON Broadway over the coming weeks. It's just so much that simple retention of titles is pretty impossible.
In truth, there is no "good" time to open anymore. Over recent years, Broadway and the really large Off Broadway houses got savvy to the Off Off Broadway trick of being the only game in town when opening during the "off" season. Hence we see major shows opening in the August doldrums (guess everyone finally realized that the mass exodus to the Hamptons was a myth).
But there are definitely still times that should be avoided at all costs. And, dear readers, the time is now. If you want to take the media by storm, mid-March through early May is probably not the best time to do it (in New York City anyway).
*Exception: An Off Broadway starring Madonna, Julia Roberts, Tom Hanks, or another celebrity of similar iconic status.