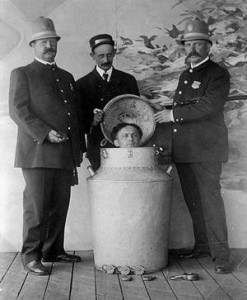 What if this conversation about email marketing between PR pro Rebecca Coleman and marketing mastermind Dave Charest mated with this post from Copyblogger on Houdini Blogging? Let's get them marrrrrried and imagine their spawn!
Dave and Rebecca talked smartly and candidly about how most email lists, really your most precious commodity, sit unused for months at a time until you need your list to buy something (this could be anything–theater tickets, widgets, you name it).  Dave astutely observes,
We just end up using e-mail marketing as a form of advertising that eventually just turns into spam.
And as someone whose inbox overflows with crap, yes it does feel like spam, even if I opted into it in the first place.
What Dave smartly recommends is treating your email list as someone you want to date. When someone signs up, they have given you permission to be in touch, and this, according to Dave, is much more intimate than fanning a Facebook page. They want you to write to them. So like any relationship, this needs to be nurtured.
Over on Copyblogger, AmberLee Fawson describes how Houdini, when first performing feats of unimaginable stunts, could get nothing more than a few polite claps. It was only when he learned the importance of the build that he became the famous Harry Houdini, and he left his audiences spell-bound. As AmberLee so rightly points out, people love anticipation.
Which brings us back to Dave and Rebecca over at Art of the Biz. Dave says,
What's more important is what happens in those moments when you don't have something to promote. It's a lot like that friend who calls you only when they want something. You don't really look forward to those phone calls do you? You see the number and think,  "great what do they want?" But when you're giving, sharing and entertaining on a consistent basis, when you're offering value to your audience, that adds a great strength when it comes time to ask for something back.
Now let's bring these adorable kids together! What if we use the Art of the Biz tactics on wooing your email list and apply a little Houdini to it?
Let's say you have a product launching in six months. Can you figure out an "editorial calendar" of emails to send over this six month period that can help build anticipation for what you have coming up? If it's a CD launch, can you do a weekly email about musicians that inspired you or the album? At the end of the email, can you send them somewhere to download a free track?
Now they are getting to know you, your music and your influences. They are much more invested in what you are creating, because you aren't asking them for anything. In fact, you are giving. And at each step you reveal a little more about what they can expect when your album drops. When that day finally comes, you have an avalanche of enthusiastic fans instead of polite applause.
So, how can you Houdini-fy your email list? How can you create your relationship, and offer up some serious anticipation for your next project? Share it in the comments!