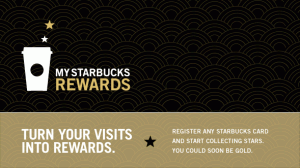 I was in a lovely little "mom and pop" coffee shop having a delicious iced coffee and overheard a meeting between the proprietors and a few other people.
They were discussing how to boost the small shop's revenue.
One woman was very enthusiastic about knocking off a version of the Starbuck's Rewards Card, which is sort of like a pre-paid debit coffee card. Customers can load it with money and use it for their Starbucks purchases instead of cash or a credit/debit card. The card has certain perks—free additional syrup flavors, a free drink after 10 purchases, and other special one-time offers.
I certainly see the appeal in having customers pre-pay for their purchases. It is like a no-interest loan from your customers. They give you a chunk of money up front while you slow-drip the product to them. And then there are the customers who load the card and then never use the balance. Free money!
The pre-paid card works for Starbucks because they offer decent perks and you can't walk a mile without tripping over a Starbucks. If you get a pre-paid card, you need to psychologically justify that you will use it. That $20 is no longer be in your bank account and available for a purchase from someplace else. You made a financial commitment to Starbucks. If it wasn't on every corner, would you feel that commitment was worth it? If you can't access the store easily from your office when you want a 3pm coffee boost, how will you feel paying cash for a cup of coffee when you have a $20 credit for coffee elsewhere?
But… As a small coffee shop with only one location, are there enough customers who would buy into it to pay for the additional costs for a new point-of-sale system so the card could work?
This one woman was really into her idea. And it took a good 20 minutes of explaining why it wasn't a good idea for this little coffee shop to get her off the pre-paid card track. It was a waste of productive time. (Well, so are meetings, but that's a post for another day.)
The point is, when it comes down to marketing ideas, sometimes stealing from the big guys works. But often it doesn't. Just because it worked for Starbucks did not mean it would work for this little coffee shop. Yes, they both sell coffee. But that's all they have in common. The little shop needs to find a way to play on its strengths and not play monkey-see with a massive chain.